You're Dope for Choosing to Keep Things Safe!
Congratulations on Your New MJLockbox
Here is a Helpful User Guide to You Get Started.
 Let's Take a Look at What's In Your Little Black Box
SAFE, TOUGH, SMELL-RESISTANT AND SECURE
A PERFECT CUSHIONED FIT FOR EACH PIECE OF YOUR KIT 
Our 5 different stash box kits are designed to suit various types of user preferences. 
Whichever MJLockbox style you have, we hope you find that it provides everything you need to enjoy and safely store herbs and edibles on the road and at home.
The jars that store your cannabis seal well which will likely nip smell issues in the bud.  Still, the foam we precision cut to snugly secure everything in your stash box kit also helps the smell-resistant qualities of your case as it helps prevent off-gassing.  It's Safe and Non-Toxic, CFC and HCFC-free. Made of at least 65% recycled materials it is also 100% recyclable.
Your MJLockbox foam also has insulating qualities that also help with temperature control.
A temperature range of 40-75 degrees Fahrenheit (4.4-23 degrees Celsius)  is recommended for ideal cannabis quality control. 
For best results please store your stash box  somewhere that will maintain this temperature range. 
AIRTIGHT AND NOT MUCH LIGHT.
CANNABIS IS BEST STORED IN GLASS JARS, WITH LOW EXPOSURE TO LIGHT.
Your MJlockbox jars are food quality preserve jars.  Properly closed, they are airtight.
Your lockbox itself doesn't let in any light and your jars are snugly placed
into non-toxic precision cut durable black foam.
We have included labels for each jar in your stash box
to help you keep track of things.
Your MJLockbox is shipped with your jar labels and lock keys inside your jars.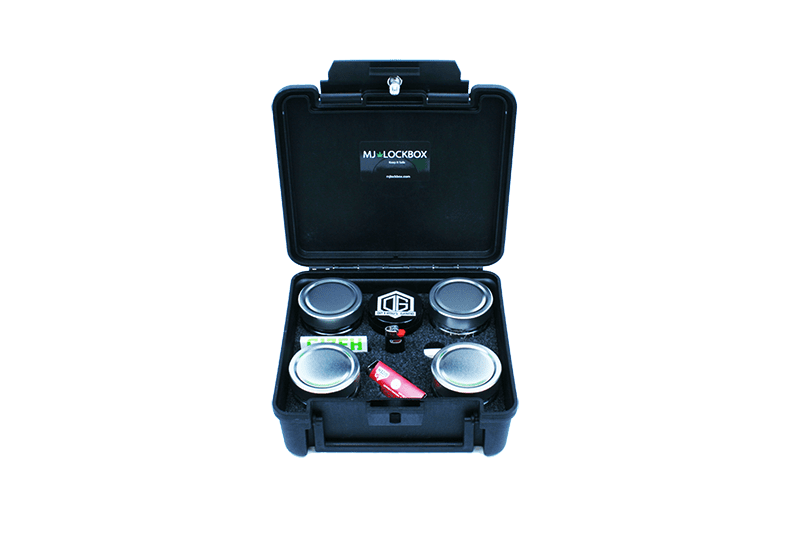 NOT TOO DRY AND NOT TOO MOIST.
IT'S IMPORTANT TO CONTROL HUMIDITY
TO PROTECT THE QUALITY OF YOUR CANNABIS AND KEEP IT SAFE AND FRESH.
Thinking it will take you a long while to get through the nugs you put in your MJLockbox?  A good idea is to put Boveda packs in each jar.
For smaller jars (most MJLockbox styles) we recommend you have one Boveda pack in each jar. 
If you have a large jar like in our "Burrito" stash box, we'd recommend two Boveda packs in the jar.
Your Boveda packs work to maintain an ideal 62% humidty for your cannabis. 
Want to know more about how they work? 
Check out the video on Boveda.
THE PERFECT GRIND EVERY TIME
INTRODUCING YOUR MJLOCKBOX EXCLUSIVE OPTIMUS GRIND GRINDER
From the No-Slip Grip, and Magnetic Lid, the Optimus Grind Easy Quarter Turn Quick Release Design is Easy on Hands. 
It even transforms from a Four Piece Grinder to Three Piece Grinder in Seconds!
Made of High Quality CNC Lathed Anodized Aluminum its Tough Teeth and Perfect Sized Holes Ensure the the MJLockbox Optimus Grind,  gives a Perfect Grind, Everytime.
Check Out This Video On the Key Features and Ease of Use of Your Optimus Grind Grinder.
 READY TO ROLL
FROM PAPERS AND FILTERS TO A HAND ROLLING MACHINE,
YOUR MJLOCKBOX COMES WITH EVERYTHING YOU NEED TO ROLL.
In your stash box you will find:
Gizeh Extra Fine Rolling Papers with Magnetic Close Case
Gizeh Filter papers
A Metal Gizeh Hand-Roller.
There are those who have acquired awesome skill at perfect freehand rolling.
 For those of us who haven't, the roller helps to achieve a perfect roll every time.
If you've never used a hand roller, check out this how to video from Gizeh.
HANDY LITTLE POKEY STICK
YES! YOU ALSO HAVE A 3 IN 1 POKEY STICK. 
Useful for many things, we thought you should have one.
The narrow stick comes in handy for poking down the herb in your pre-rolls,
or clearing screens. 
The thick end is useful for tamping things down in a pipe, bong or blunt.
There is even a little spoon, in the event you want to use it for loading thing from your grinder to your roller.
You can find your pokey stick in it's place beneath your metal Gizeh roller.
TRAVELLING TREES – ON THE GO PRE-ROLLS
IF YOU HAVE THE MJLOCKBOX TRAVELLING TREES KIT,
YOU HAVE A CHILD RESISTENT POCKET PRE-ROLL CONTAINER INCLUDED.
This lets you take a few pre-rolls with you,
even when you leave your stash box locked at home.
Child-Resistant can mean a bit tricky even for adults. 
Check this helpful video for the right technique to opening your pre-roll pack.
GET LIT
EVEN YOUR LIGHTER HAS IT'S OWN SPECIAL SPACE.
If you picked up your stash box locally at MJLockbox, 
then a lighter was included in your kit.
If shipping restrictions prevented us sending a lighter, 
then there is still a special place in your lockbox to hold one.
JUST LOCK AND GO!
NO NEED TO WORRY ABOUT REMEMBERING A COMBINATION.
Your MJLockbox features cylindrical locks (harder to pick) with two keys.
We recommend having one key with you and another stored someplace safe.
You may find things a little stiff when your box is brand new.  The boxes are designed to be strong.  They loosen up a bit and become more fluid after a few uses.
When using your keys, there is no need to press them in too much, just wiggle a bit until you are used to them.
If you aren't used to cylindrical locks, or to see the easiest way to open and close your MJLockbox, here is a short video on how they work.